The Crest Condo by Wing Tai and Metro Holding, an upcoming condo launch opening for preview soon with much excitement surrounding the architectural design which is created by a world renowned Pritzker Prize winning architect - Toyo Ito.
It is located in the tranquil Jervois precinct, a 99 year leasehold site fronting the good class bungalows of the Chatsworth and Bishopsgate estates. With its close proximity to Orchard Road and the Central Business District (CBD), it is a short 5 to 10 mins drive to the Orchard Shopping belt, the CBD, Marina Bay and Southern Waterfront where Vivocity and Resorts World at Sentosa are located.
The Crest Condo serene and mature neighbourhood has excellent access to public transportation networks and modern lifestyle amenities of the city will certainly appeal to savvy investors and discerning homebuyers who are seeking quality residences.
About
Sitting on a land parcel of over 256,000 sq ft The Crest condo at Prince Charles Cresecent is a joint development by Wing Tai Holdings and Metro Holdings and architecturally created by prestigious Pritzker Prize winning architect Toyo Ito known for creating conceptual architecture.
The Crest Condo will be an iconic signature residential condominium developed with a keen sensitivity to its surroundings. The architecture will be a nuanced interplay of proportion and space to maximize its orientation and location in a reputable prime landed enclave.
Comprising of three 23-storey towers and four 5-storey blocks with a total of 469 units with full condo facilities and generous basement car park lots of 494 lots which is a rarity in today's condo development near mrt station.
The Architecture of The Crest symbolizes a growing life, that of a blooming tree, surrounding a pond in an island setting where the development is divided into two zones: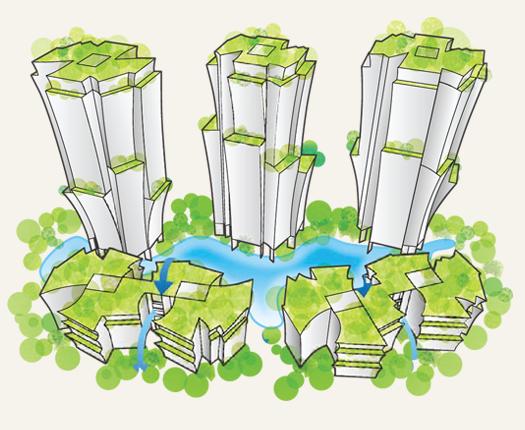 the Active Zone - comprises of three 23 storey towers offering spectacular views of the surrounding skylines
the Tranquil Zone - comprises of four 5-storey low-rise blocks in the North interconnecting with the water and surrounding greenery
The Crest architecture promotes an open living environment to enjoy light and wind. The floor plates are fractal in plan rather than a simple rectilinear box to capture natural resources such as light and wind from multiple directions at the same time creates a variety of views.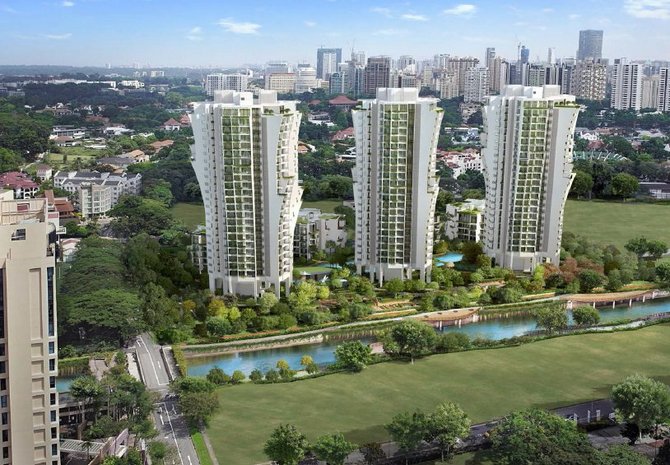 Location
The Crest Condo at Prince Charles Cresent is located in the pretigious District 10 landed enclave at the fringe of both the Central Business District and the world famous Orchard shopping belt. Its quiet and mature neighbourhood offers tranquilty yet with all the conveniences within easy reach.
It is also just 5 mins walk from the Redhill MRT station.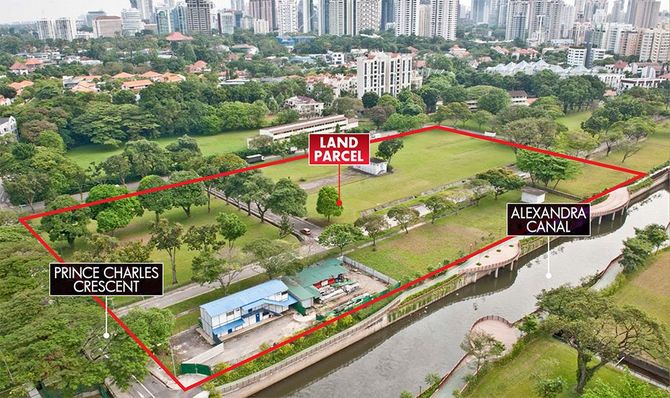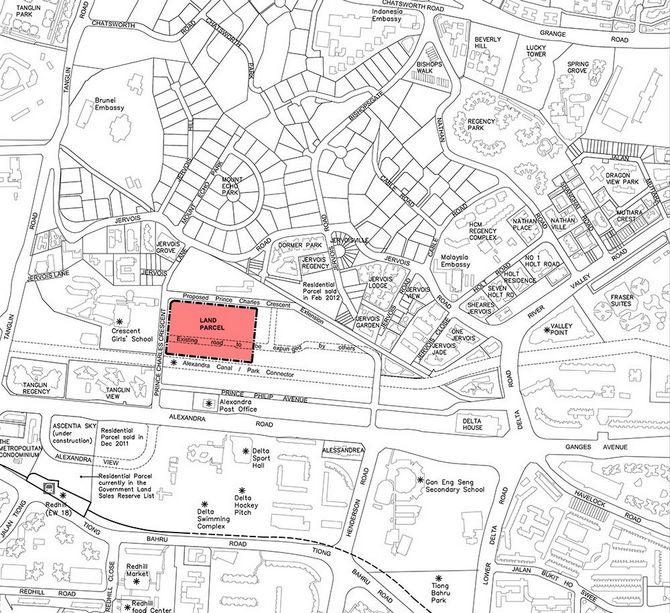 Facilities
The Crest Condo Facilities
The Crest condo facilities is designed to blend with architecture naturally as it interconnects with the water and greenery.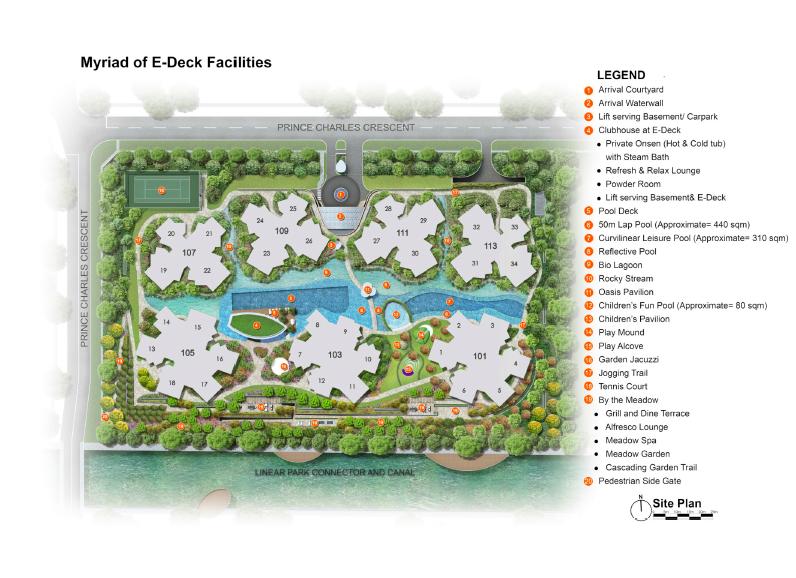 The Crest Condo Sky Facilities Deck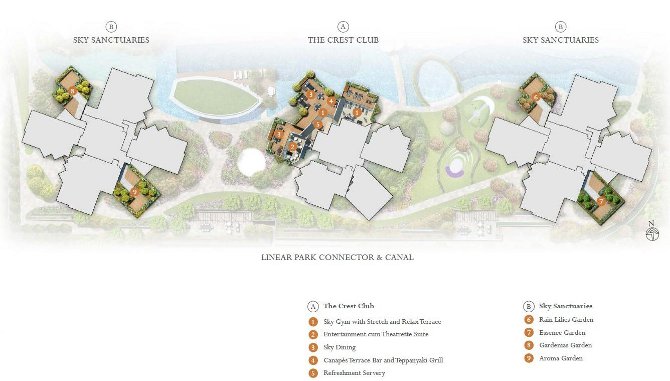 Toyo Ito
Toyo Ito & Associates, Architects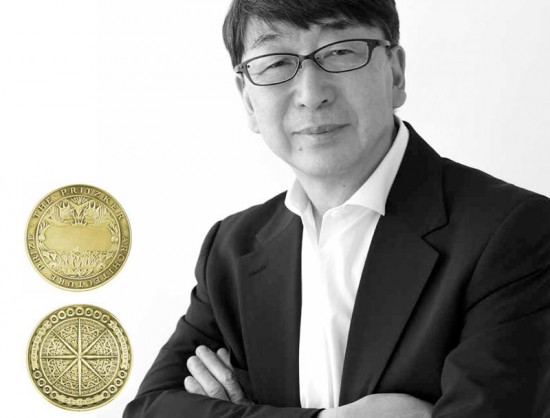 Mr Toyo Ito is the winner of the Royal Gold Medal in 2006, one of the architecture's most prestigious prizes from the Royal Institute of British Architects.
Mr Toyo Ito is best known for his organic geometries and sensitive interpretation of nature. He has just Been conferred the Pritzker Architecture Price Laureate 2013.

Toyo Ito, born 1 June 1941, is a Japanese architect known for creating conceptual architecture, in which he seeks to simultaneously express the physical and virtual worlds. He is a leading exponent of architecture that addresses the contemporary notion of a "simulated" city, and has been called "one of the world's most innovative and influential architects."
He is one of the world's most influential and respected architects, known for creating highly conceptual works and being extremely selective of his commissions. Nature is a recurring inspiration for Mr. Ito, whose lyrical free-flowing spaces and designs mirror the rhythms and patterns of organic growth.
In 2013, Mr Ito was awarded the Pritzker Prize, one of architecture's most prestigious prizes.
He was a likely front-runner for the Pritzker Prize for the previous 10 years. A recent trend has seen less experienced and well-known winners, for example Chinese architect Wang Shu in 2012, and the award to Toyo Ito is seen as recognition of a lifetime's achievement in architecture.
Unit Type
The Crest Condo Unit Mix
Almost every unit is unique with it own layout therefore the built-up varies for each bedroom unit type offering house owner a personal collection that is truely uniquely theirs to create and enjoy.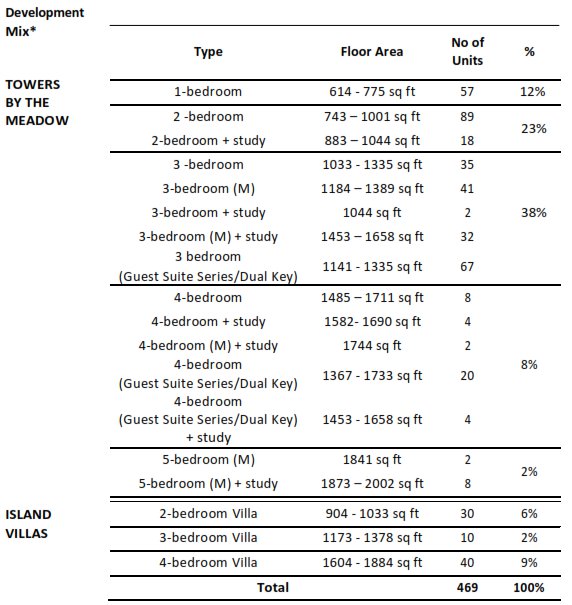 Disclaimer:
This webpage is for information only. Whilst reasonable care has been exercised in preparing this information, it is subject to change and these particulars do not constitute, nor constitute part of, an offer or contract; interested parties should not rely on the statements or representations of fact but must satisfy themselves by inspection or otherwise as to the accuracy.
No person in the employment of the agent or the agent's principal has any authority to make any representations or warranties whatsoever in relation to these particulars and SingaporePropertyHunt.com cannot be held responsible for any liability whatsoever or for any loss howsoever arising from or in reliance upon the whole or any part of the contents of this webpage.