Royal Wharf London
London's New Waterfront Haven
Royal Wharf London a new mega transformative riverside property development in Slivertown, East London, jointly developed by Singapore mainboard listed Oxley Holdings Ltd and UK's Top Developer Ballymore.
Offering outstanding opportunity to capitalize on future housing demand of the upcoming ABP, London's next new financial and business districts as well as current housing needs of Canary Wharf financial district, Royal Wharf London is an exciting new waterfront intergrated mixed-use township jointly developed by reputable Singapore main-board listed developer Oxley Holdings and UK's top developer Ballymore.
It is one of the most affordable new buy-to-let London property with some of the best growth potential driven by the upcoming Crossrail, a "Game Changer" that is expected to bring about a big uplift in Royal Wharf's property value.
Royal Wharf London Phase 1 FULLY SOLD in 2 months with overwhelming response in London UK, Singapore & China/Hong Kong. Phase 2 selling out fast, with last few units!
Built over approximately 40 acres of land in London's Royal Docks along the River Thames, Royal Wharf London is a residential led mixed development comprising of 3,385 homes in total complete with offices, retail shops, riverside restaurants, parks and educational facilities, creating a new great estate for London.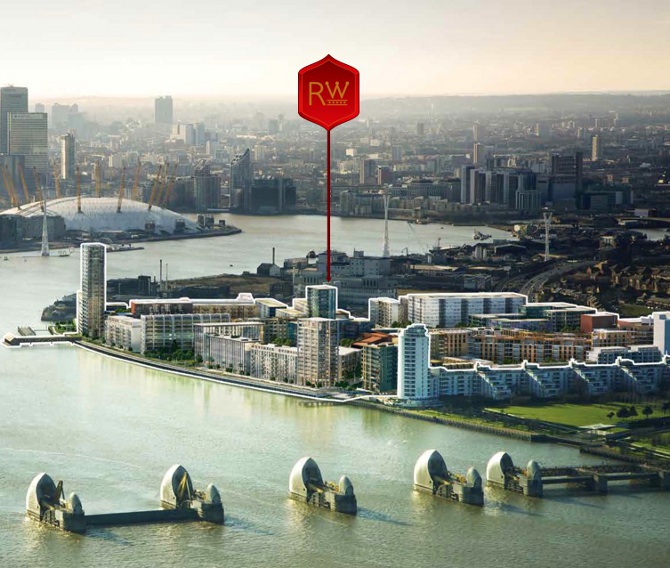 Royal Wharf is the first part of a wider vision for the Royal Docks to be an entirely new district for London to be created with an estimated population of 10,000 and delivering full-time jobs of around 20,000 boosting local employment. It is an opportunity to be the new Central London neighbourhood.
About Royal Docks
With the recently consolidated success of the 2012 Olympics and the transformation of the Canary Wharf into one of Europe's most powerful business districts, a shift of London's centre of gravity has been moving east. It is Mayor of London top priority to transform the Royal Docks area into a a world class international business district, creating local jobs and growth and strengthening trade between east and west.
Today the Royal Docks is London's only designated Enterprise zone, an area that provides a fantastic opportunity to develop in excess of 5 million sqft of commercial space along with homes and jobs.
The area has firm foundations for growth, with existing assets including the University of East London, Crossrail, Docklands Light Railway, and nearby O2 Centre. The ExCeL Exhibition Centre and London City Airport have been hugely successful and are both planning to expand. Above all, there is much public sector land, owned by the Mayor of London and Newham Council, primed and ready for development.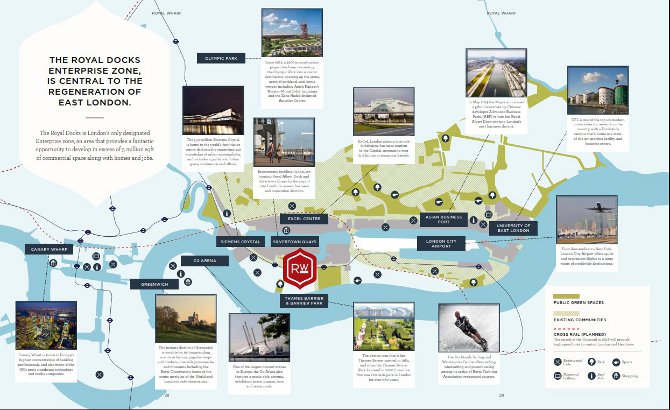 The vision for the Royal Docks is a vibrant waterside neighbourhood and a world-class business and leisure destination, a leader in emerging technologies and green enterprise and an international gateway for trade in modern commodities: knowledge, ideas and expertise.
The Royal Wharf London Overview
Royal Wharf London offers premium quality waterside living with approximately half a kilometer of direct south facing river frontage with stunning panoramic views.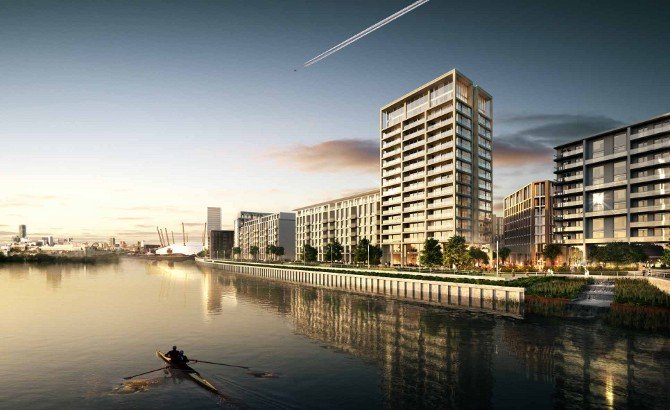 Not only does it offer a stunning south facing riverside promenade, but also has at its heart a new vibrant high street connecting parks and squares.
Royal Wharf London siteplan
The Royal Wharf residences is a mix of brick townhouses and apartment buildings and have been designed to a range of sizes and shapes so as to create the leaps of scale so key to London's sense of itself.
There are stunning apartment buildings offering unrivaled views of the Thames, terraced mansion blocks offering generous family sized apartments and a range of townhouses with tall ceilings and stunning private gardens.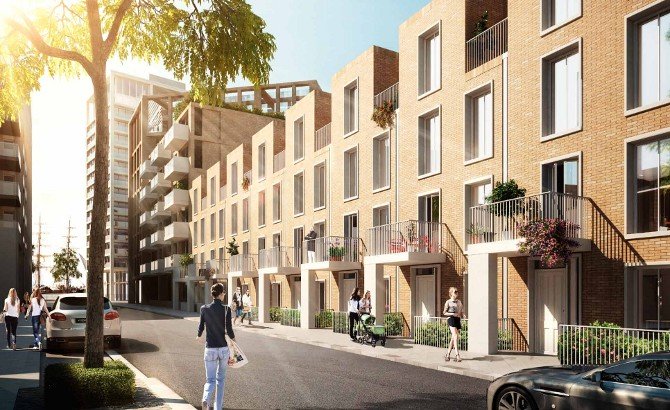 Royal Wharf's available properties include expansive townhouses, three-bed duplexes, two bed and one-bed apartments and compact studios.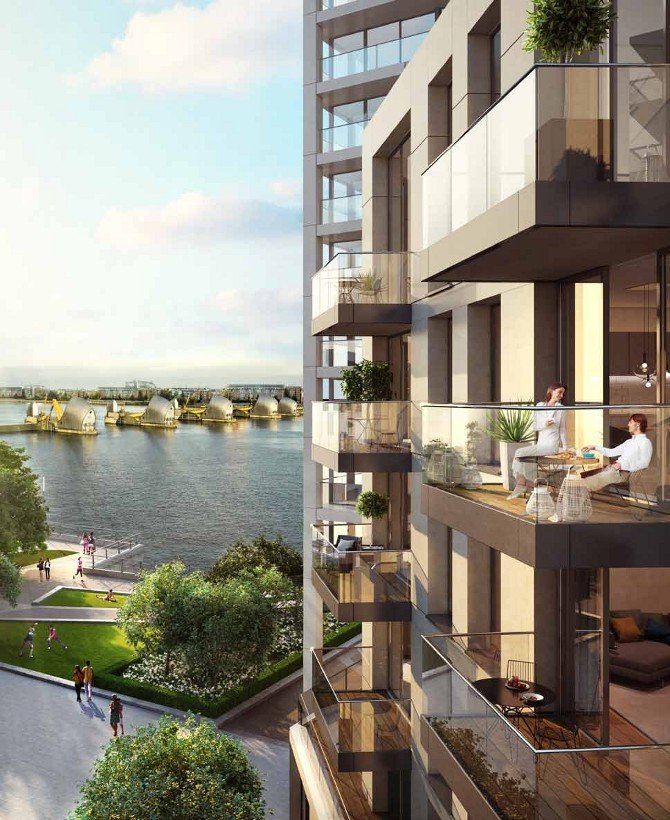 Royal Wharf London's Excellent Connectivity
Anchored at each end by Pontoon Dock and West Silvertown DLR stations the Royal Wharf London is just 10 minutes from Canary Wharf and connection to the Jubilee line and 5 minutes from London City Airport. These already excellent transport links will be supplemented by a dedicated river taxi stop.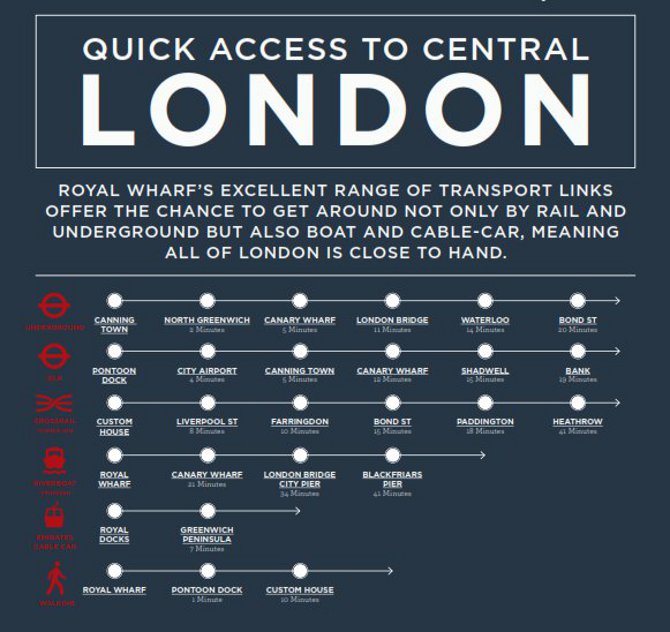 When Custom House link to Crossrail, the new high frequency, high capacity railway for London and the South East, arrives in 2018 the vicinity will experience another major transformation. The £15bn Crossrail line, currently the biggest construction project in Europe, is a historic feat of railway planning. Its emergence will mean that east, central and west London are connected like never before, and that Royal Wharf will reap the benefit of closer-than-ever links with Liverpool Street and Farringdon in the City, as well as with a useful array of central London stations including Tottenham Court Road, Bond Street and Paddington.
Royal Wharf London in Brief
| | |
| --- | --- |
| Type: | Integrated Mixed development with Studio, 1BR, 2BR, 3BR, Townhouses |
| Total: | 3,385 homes launched in phases |
| Site area: | Approx. 40 Acres or 16 Hectares or 1.7 Million square feet (spanning across 2 DLR stations) |
| Tenure: | 999 years |
| Population: | To cater for 10,000 residents |
| Demand: | Over 50,000 employees working in the vicinity |
| Underground: | Excellent transport links into central London via the Docklands Light Railway (DLR) connecting to the Tube, upcoming Crossrail (opening 2018) |
| Airport: | Only 1 stop from London City Airport with flights to European cities and New York |
| Ferry: | To London Bridge/Tower Bridge, London Eye etc from the proposed new pier |
| What's Big: | New Asia Business Port opening in 2017 transforming the Royal Docks into London's next International Business District & creating 20,000 new jobs |
| Phase 1 completion: | Estimated Summer 2016 (Jun-Aug) |
| Phase 2 completion: | Estimated from end 2017 |
| Warranty: | 10 years build warranty by UK National House Building Council (NHBC) |
Why Royal Wharf London, UK...
Launching Phase 3
Final and Best Plots: Mariner's Quarter,
at Singapore prices from only £390K
(with 'FREE' spacious balconies)


500m of direct south facing river frontage with stunning panoramic views
Developed by 2 leading reputable developers - Oxley Holdings & UK Ballymore
A great new waterside estate with 3,385 new homes and apartments
A complete new township with comprehensive amenities - Clubhouse, Gym, swimming pool, School, Riverside Parks, Market Square, High-street shopping, Offices & Riverside Restaurants, Cafes and Sainsbury supermarket
Enjoy

First Mover Advantage

on the

Regeneration of Royal Docks

supported by the Mayor of London

Excellent Growth Potential

presented by

"Game Changing' projects

- ABP London's next Financial and Business Center and the Crossrail

Excellent CONNECTIVITY

by rail, by river and by air
Future CROSSRAIL completing in 2018 enhances property value
Ready Rental Income from current and future housing demands
Low cash outlay and deferred payment
Highly affordable from only £390K (approx S$780K) compared to Singapore property (minimum S$650K for 99-yr leasehold) and Central London property (£1m)
Phase 1 FULLY SOLD in 2 months due to superb overwhelming response in London UK, Singapore & China/Hong Kong. Phase 2 selling out fast!
Now Launching Phase 3 for Sale, the Best and Final Phase!
Last Chance to secure the Best and Final plots. Register Your Interest NOW to get the best units & enjoy Best Discounts!
Read Also: Affected by cooling measures? Overseas property presents interesting opportunities for investors
From around the web

Disclaimer:
This webpage is for information only. Whilst reasonable care has been exercised in preparing this information, it is subject to change and these particulars do not constitute, nor constitute part of, an offer or contract; interested parties should not rely on the statements or representations of fact but must satisfy themselves by inspection or otherwise as to the accuracy.
No person in the employment of the agent or the agent's principal has any authority to make any representations or warranties whatsoever in relation to these particulars and SingaporePropertyHunt.com cannot be held responsible for any liability whatsoever or for any loss howsoever arising from or in reliance upon the whole or any part of the contents of this webpage.