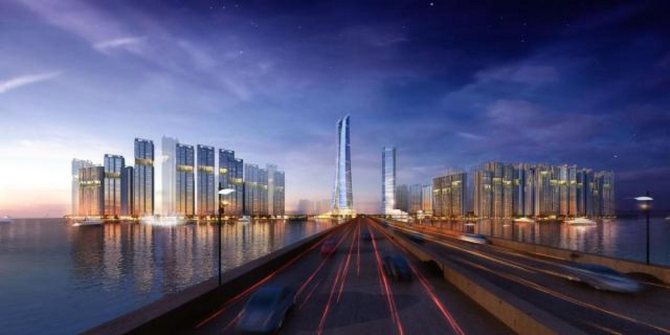 Perfectly fronting Singapore, R&F Princess Cove JB will be the Southern Gateway landmark to Malaysia flank by 2 Iconic Towers of which one will be the tallest in the country. Located at Tanjung Puteri Johor Bahru not only will it be close to the JB-Woodlands Checkpoints but also adjacent to the proposed JB-Woodlands MRT and the upcoming bus transit hub making this freehold mixed development standout for its excellent connectivity.
With a GDV of RM24.5 billion with an estimated 41 million sq ft of built-up space, R&F Properties hail Princess Cove as its signature HOPSCA development, which stands for Hotels, Offices, Parks, Shopping malls, Convention centres and Luxurious Apartments integrated development. It has already attracted investments companies such HSBC, YKK Group etc.. joining the crowd. The completion of the entire township will take about 8 to 10 years and to be built in five phases.
In the phase one of Princess Cove Johor Bahru (JB), R&F Properties plans to launch 7 towers of 15 blocks of 35-storey luxurious apartments with a total of around 3,200 apartments comprising unit types ranging from studios, 2 bedder to 4 bedder. The apartment towers will sit atop three levels of shopping mall offering a wide array of conveniences.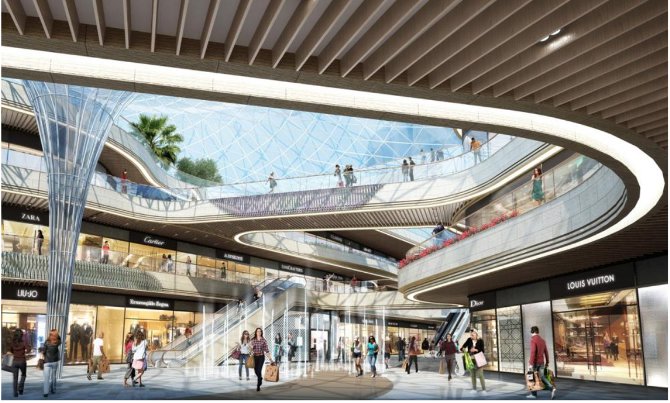 When completed by 2018, R&F Princess Cove shopping mall will be one of biggest in JB Central featuring leading branded retailers, supermart, lifestyle services and a wide selection of eateries.
Residents at the R&F Princes Cove Johor Bahru (JB) apartments will also have access to a comprehensive selection of facilities such as infiinity pool overlooking the Straits of Johor, pool gym, kids pool, BBQ pit, club house, squash courts and many more, spreading over the fourth level of the development with connecting bridges to different tower blocks.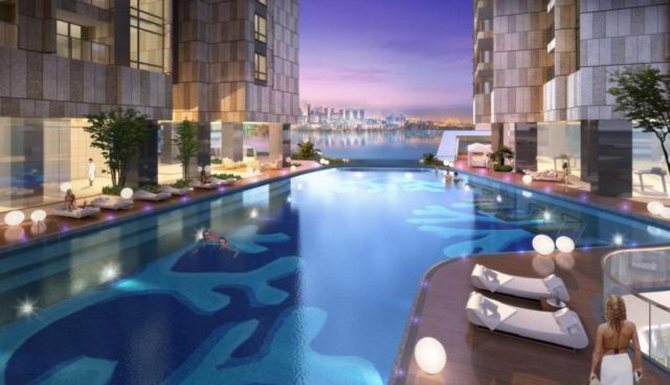 Guangzhou R&F Properties - The Leading Landmark Builder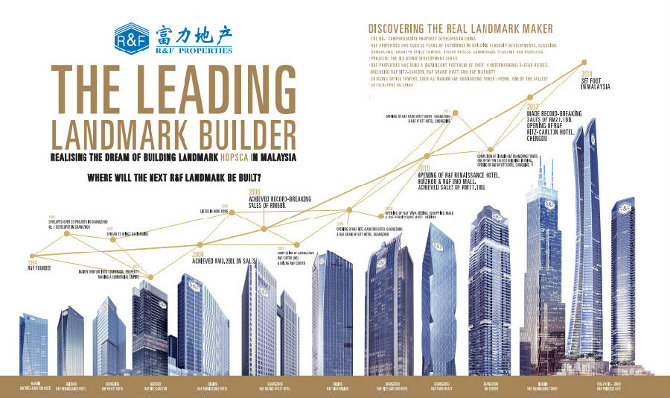 Guangzhou R&F Properties Co., Ltd. was established in 1994 with a registered capital of CNY806 million focused on the design, development, construction, sale, property management and property related services in China and officially licensed to develop high class property developments and provide top rate property design, construction, property management and property related services.
On July 14, 2005, R&F made a successful debut listing on the Stock Exchange of Hong Kong and subsequently became the first China property developer to be included as a constituent member of the Hang Seng China Properties Index.
Since its establishment in 1994 with a devoted senior management team with attention to high level of details, R&F has grown from strength to strength winning numerous accolades including being ranked as the number 1 in terms of overall strength among all property developers in China for five years consecutively between 2005 and 2009 based on National Statistics Bureau. In 2008 it was ranked number 1 amongst "China Top 100 Tax Payers" and in 2012 became the first amongst a handful of companies to be regarded as an "Enterprise Headquarter Recognized by Guangzhou City".
Today R&F is regarded as a leading comprehensive property developer in China and is amongst the top 10 most profitable developers in China in 2013 according to National Statistics Bureau of China.
As at the end of December 2013, R&F Properties have an attributable land bank of 43.3 million sq.m., comprising of over 50 project developments, an area underdevelopment in excess of 10 million sq.m., and up to CNY140 billion in total assets.
In 2012, including its proportion of joint venture developments, R&F Properties achieved CNY42.2 billion of contracted sales or equivalent to 3.39 million sq.m., and recorded a net profit of CNY7.64 billion with an stable target growth of no less than 15% p.a. in the near term.
Headquartered in Guangzhou, R&F Properties have to date developments built up to 25 other key cities and regions including Beijing, Tianjin, Harbin, Xi'an, Taiyuan, Datong, Shenyang, Shanghai, Nanjing, Chongqing, Chengdu, Huizhou, Hainan, Hangzhou, Wuxi, Changsha, Guiyang, Meizhou, Fuzhou, Guiyang, Nanning, Baotou, Foshan, and Zhuhai to be firmly regarded as a leading landmark national developer.