Iskandar Residences Medini Location
Before getting to Iskandar Residences Medini location, here's a brief introduction of Medini.
About Medini Iskandar
Medini is located within the new township of Nusajaya, a key driver of Iskandar Malaysia. It is accessible from Tuas 2nd link a mere 15 mins drive from the Tuas CIQ.
Nusajaya's masterplan is to turn it into the "World in One City" and to be the best the world has to offer, a cosmopolitan metropolis. To accomplish this the Iskandar Regionial Developement Authority, a Federal statutory board, has eight catalyst developments in Nusajaya.
Medini is one of them while Kota Iskandar (Johor state new administrative centre), the Southern Industrial and Logistics Clusters (SiLC), Puteri Harbour Waterfront Development, EduCity, Afiat Healthpark, International Destination Resort and Nusajaya Residences make up the rest.
Heading east ward from Medini to to the Johor Bahru City Centre and Woodlands Causeway checkpoint takes about 20 minutes via the new Coastal Highway.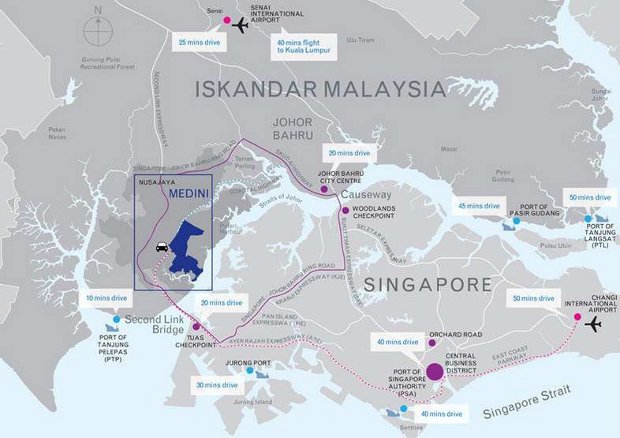 At the tip of Medini is Medini North. This area is zoned as the "Lifestyle & Lesiure" in Iskandar development masterplan where Legoland resides. Other key upcoming projects in this area is Capitaland's Urban Wellness development, Parkway's Gleneagles Hospital and Legoland Hotel just to name a few.
Down south of Medini is zoned as Iskandar Financial District. Iskandar Residences @ Medini is located along the edge of Medini North and is less than 5 minutes away from Iskandar Financial District. Towards the east of Iskandar Residences is Kota Iskandar, Johor state admininstration which leads further to Puteri Harbour where many waterfront developments are being developed.
Iskandar Residences Medini Location Map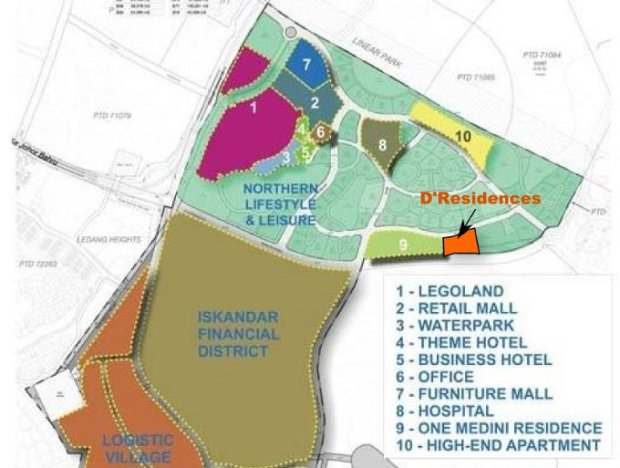 Iskandar Residences @ Medini Unit Type & Indicative Price