The Hillier Condominium
at Hillview to Launch Soon
The Hillier condominium at Hillview Avenue to be launched for sale soon.
Register now for Special Private Presentation & Priorty Booking...
The Hillier, a new mixed development in Hillview Ave, will soon add a touch of London and New York elegance and sophistication to this private residential enclave surrounded by Bukit Timah Hill and the Bukit Timah Nature Reserve.

The Hillier condominium comprises of 528 SOHO-lifestyle apartment units with high ceiling housed in 2 towers, one with a touch of London elegance and the other New York sophistication, with post industrial inspired facade.
It is complete with full condo facilities, landscaping and sited above a retail podium, the HillV 2, where residents are offered a range of retail and F&B options in an inviting, funky edgy setting.


Conveniently located within short walk to the upcoming Hillview MRT station, this chic development will appeal not only to the upwardly mobile professionals and entrepreneurs looking for a distinctive address but also to singles, young couples, retirees and investors alike.

It will be Far East latest collection of SOHO concept homes to be developed in Hillview Avenue.

Far East SOHO concept homes are designed for flexible use of space for live, work and play.

A range of 1, 1+1, and 2+1 bedroom units are available for selection.

For more information please call 906098436 or register your interest for Special Private Preview and Priority Booking.


Why The Hillier Condominium
Unique SOHO-lifestyled Condo Apartment
in a Hillview Private Enclave

A chic unique mixed development that will compliment those seeking a trendy lifestyle at a distinctive address.
Residential Towers and Commercial Podium with Landscape
Close to Bukit Batok Nature Park, Bukit Batok Town Park and Bukit Timah Nature Reserve -providing a green sanctuary for nature lovers

Doorstep Shopping Convenience offering Wide Choice of Amenities

Sited above a retail podium, HillV 2, a cosmopolitan mall with about 30 retail outlets offering a variety of dining options, grocery and amenities

Also near The Rail Mall which houses a stretch of distinct restaurants and delicatessen, Cold Storage and other amenities


Doorstep Travel Convenience with access to an Excellent Transport Network
Within minutes walk to the upcoming Hillview MRT Station, completing in 2015
Easy vehicular accessibility to other parts of the island via major expressways (BKE, PIE and KJE)
SOHO Concept Homes for Live, Work and Play
High ceiling SOHO-Lifestyled condo apartment unit for flexible creative use of space to live, work and play.
Full Condo Facilities
Full condominium facilities

Positioned for Future Growth
Upcoming Hilview MRT Station of the Downtown line completing in 2015 within walking distance
Just 11 mins drive away Jurong Gateway, completing in 10 to 15 years with excellent mix of office, retail, residential, hotel, entertainment and F&B with 40,000 working population at least.
Ng Teng Fong General Hospital & Jurong Commuity Hospital in Lakeside district, completing in 2015
The Hillier Quick Facts
The following information are preliminary data and maybe subject to change.
Location:
Hillivew Aveue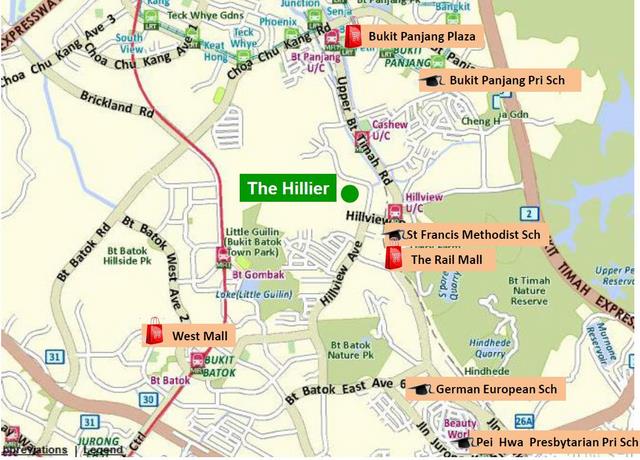 Tenure:
99 years
Expected Date of T.O.P:
30 June 2015
Site Area:
Approx 153,863.85 sq ft / 14,294.3 sq m
Gross Plot Ratio :
2.8
No. of Units:
528 Residential Units
No. of Carpark Lots :
690 lots in a multiple storey car park (540 lots for residential and 150 lots for commercial)
Developer :
Far East Organization
Types of Apartment Units
A range of 1, 1+1, and 2+1 bedroom units are available for selection.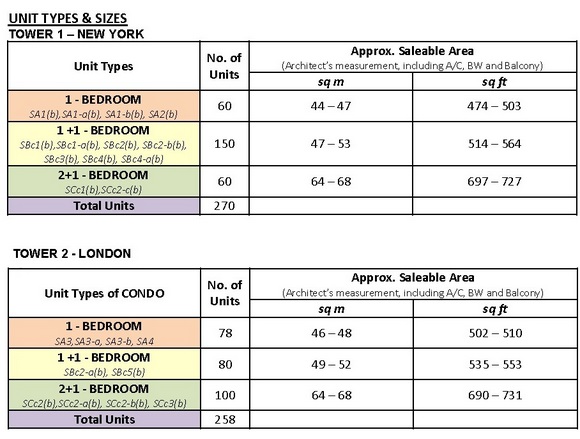 Register Now for Special Preview and Priority Booking
Read Also: Affected by cooling measures? Overseas property presents interesting opportunities for investors
From around the web

Back to Top of The Hillier Condominium

Disclaimer:
This webpage is for information only. Whilst reasonable care has been exercised in preparing this information, it is subject to change and these particulars do not constitute, nor constitute part of, an offer or contract; interested parties should not rely on the statements or representations of fact but must satisfy themselves by inspection or otherwise as to the accuracy.
SingaporePropertyHunt.com cannot be held responsible for any liability whatsoever or for any loss howsoever arising from or in reliance upon the whole or any part of the contents of this webpage.