Singapore House Rental
Whiteshores Luxurious Bungalow cluster housing
House Rental Information
Whiteshores Bungalow cluster house, 4 bedroom + Utility + Study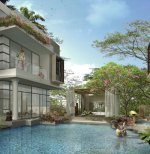 Development:
Location:
Postal:
Room Type:
Build-in (sqft):
Asking $:
Available:
Whiteshores
Ponggol Seventeenth Ave
Singapore 829723
4+study+utility
2852-2939
$7,000 onwards

Unit type for rent: Luxurious bungalow with spacious 4 bedroom, a study, an outdoor terrace and a private spa.
Type of Housing:
Each exclusive bungalow comes with an attic and the extensive use of glass in the master bedrooms, living and dining areas all offer unobstructed scenic views of the swimming pool and landscaped areas. It has a private driveway linked to a car porch that can accomodate 2 cars.
Central to Whiteshores is the shared landscaped garden designed with the concept of tropical resort in mind.
Location:
Situated at Punggol 17th Avenue, known for its natural serene surroundings and close proximity to the Punggol waterfront with easy access to these dream homes with convenient transport modes via the North East Line MRT and Punggol LRT or via Tampines Expressway (TPE) and Kallang Expressway (KPE). A rare find indeed in urban Singapore.
Street View/ Location Map
Contact Agent
If you would like to view this property please click on "View This House" button, complete the form below then click on the submit button and I will be in contact with you shortly.
Read Also: Affected by cooling measures? Overseas property presents interesting opportunities for investors
From around the web