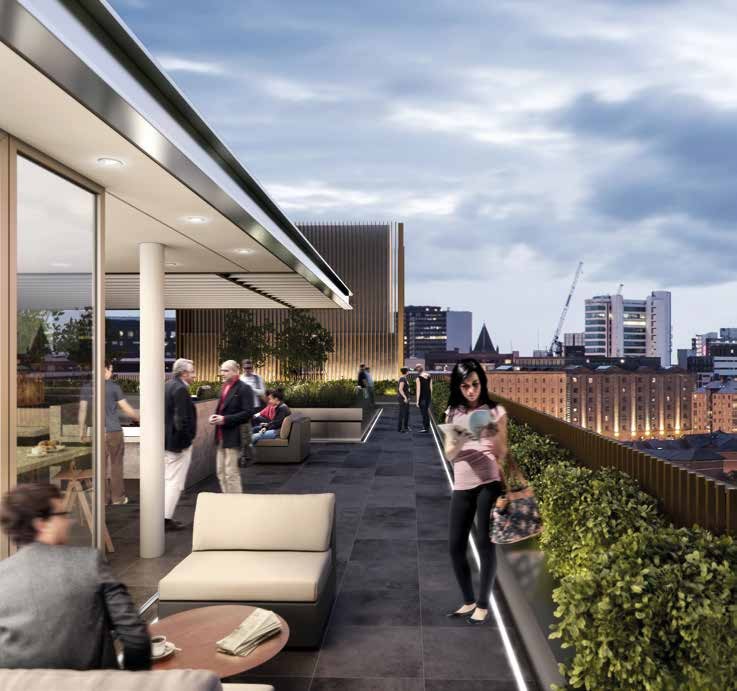 Introducing..
Oxygen Manchester
Oxygen Manchester an upcoming iconic 31 storey residential apartment tower by leading UK developer - Property Alliance Group, offers a market-leading luxury living in the centre of UK's second biggest city.
High profile property developments in the heart of the city of Manchester, the second biggest after London, are few and far in between. Therefore Oxygen offers excellent opportunities to invest in this fast growing city at far more affordable price than London.

Located within a highly accessible location in close proximity to Manchester Piccadilly Station, the Northern Quarter and the main commercial core of the city centre, Oxygen Manchester which comprises 345 stylish apartments, 12 townhouses, leisure and amenity facilities and sky gardens, will be a beacon on Manchester's skyline.
Oxygen is a community. A place to work, rest and play.
Manchester, well known for its two world-class football clubs Manchester United and Manchester City, is UK biggest urban metropolis outside of London. It is rich in heritage with an established economy, multi-modal transport network including the UK's largest regional airport, with daily flights to global destinations.

Hosting the bi-annual International Arts Festival (MIF), the Conservative and Labour Party Conferences at Manchester Central, a widely recognized cultural and lifestyle scene, the city is also home to the second largest China Town in the UK.

Manchester is identified by overseas investors as a source of opportunity with major strategic developments backed by investors from around the globe.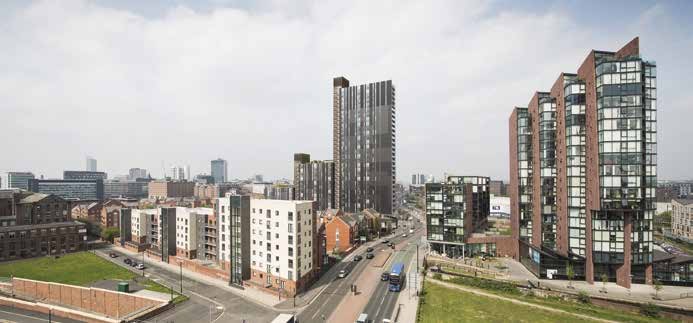 Oxygen is Unique.
A connected place. Connected to your friends, connected to Piccadilly and connected to the sky. Oxygen is unique. It's a vertical village. Family town houses engage the street.
Above the town houses sit the amenity deck with swimming pool and spa, gym and community hall. Above the amenity deck are apartments to live with views across the City and towards the Peak District National Park. The town houses and apartments have full height window and balconies allowing the generous internal layout to be flooded with natural daylight.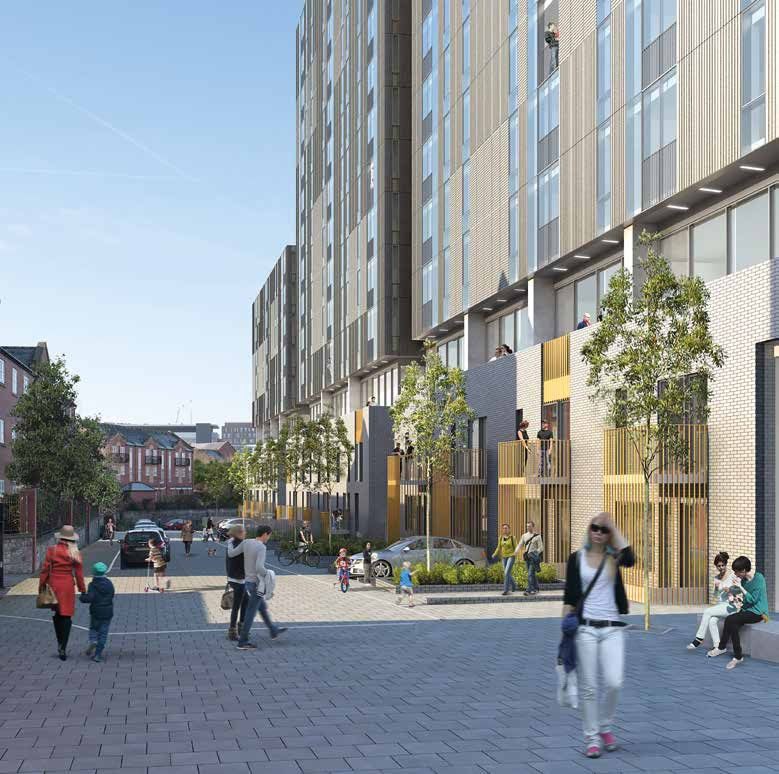 The south west corner of the development has been designed to accommodate a stepped allotment terrace. Grow your vegetables then nip in the pool for a soak. Under the allotments we have incorporated a coffee shop to get your morning fix.

The building steps up from 8 to 14 and up to 31 storeys. Roof gardens with party rooms to rent are situated on levels 9 and 15. The roof gardens face the City and offer unrivalled views and sunsets.

Generous storage and parking provision allow Oxygen to fit your lifestyle. 24 hour concierge and support from the on site Oxygen team will be at hand.
"Oxygen is unashamedly high quality — both iconic and accessible. A new benchmark in urban living."
Oxygen Manchester Location
From your doorstep to the rest of the world.
Manchester City Region has a world class, multimodal, integrated transport infrastructure which provides connectivity across the conurbation and the wider Northwest region, and direct access to the rest of the UK and world.
As the North's only major international gateway, Manchester is truly internationally connected, providing vital transport links to the rest of the globe via Manchester Airport.
World Class Multimodal Connectivity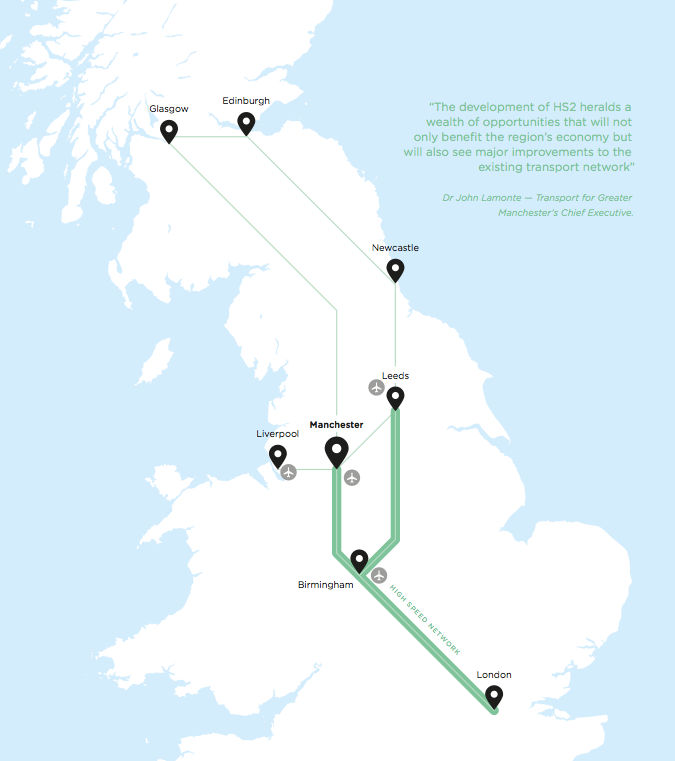 Air
Manchester Airport is the largest airport outside London flying to over 225 destinations including four direct flights a week to Hong Kong and 22 flights a week to Dubai, and direct flights to Abu Dhabi, New York, Beijing and Singapore from operators including Cathay Pacific, Emirates, Qatar and Etihad Airways.
Road
Orbital and linear motorways providing direct access to all major cities including London, Birmingham, Bristol, Liverpool, Leeds, Newcastle, Glasgow and Edinburgh.
Bus & Metrolink
Greater Manchester and the inner city centre are served by an extensive bus and tram network. The tram system is undergoing a major overhaul and by 2016 will be the largest in the UK.
Rail
Fast, regular connections to surrounding conurbations and all major UK destinations. Piccadilly offers frequent high-speed connections to London Euston, Birmingham, Liverpool and Edinburgh.
Manchester will also see a series of improvements to its rail services being at the heart of the 'Northern Hub' investment scheme. More frequent and faster services will be provided with an additional 700 trains per day. The second city crossing will also play a vital role in providing necessary capacity, flexibility and reliability for the future tram network to operate and will also improve access by Metrolink into the heart of the city, connecting both the new lines and people across Greater Manchester.
HS2
HS2 to Manchester Piccadilly will reduce journey times to London to approximately 1 hour. The new rail link will also boost economic growth and further open up commercial opportunities for businesses in Manchester and the North West. Ahead of HS2 there are also plans in place for a multibillion pound regeneration around a new look Train Station at Piccadilly. Planners view is to create a new 'gateway quarter' modelled on Amsterdam and New York.
PERFECTLY PLACED IN MANCHESTER CITY CENTRE
The Oxygen Manchester is perfectly placed in the heart of Piccadilly Manchester where amenities are aplenty.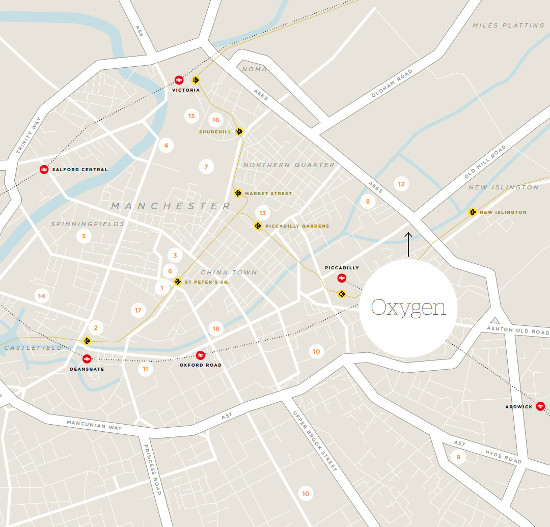 * 10 minutes walk to Manchester Piccadilly Station
* 12 minutes walk to The University of Manchester (North Campus)
* 15 minutes walk to Piccadilly Garden Bus Interchange
* 20 minutes walk to Arndale Shopping Centre & Manchester Town Hall
* 20 minutes walk to Manchester Chinatown
* 10 minutes drive to Spinningfields (Manchester's Central Business District)
* 10 minutes drive to Central Manchester University Hospitals
* 5 minutes drive to Eithad Stadium & Sportcity (Home of Manchester City Football Club)
* 15 minutes drive to Old Trafford Stadium (Home of Manchester United Football Club)
* 15 minutes drive to MediaCity UK
* 20 minutes drive to Trafford Shopping Centre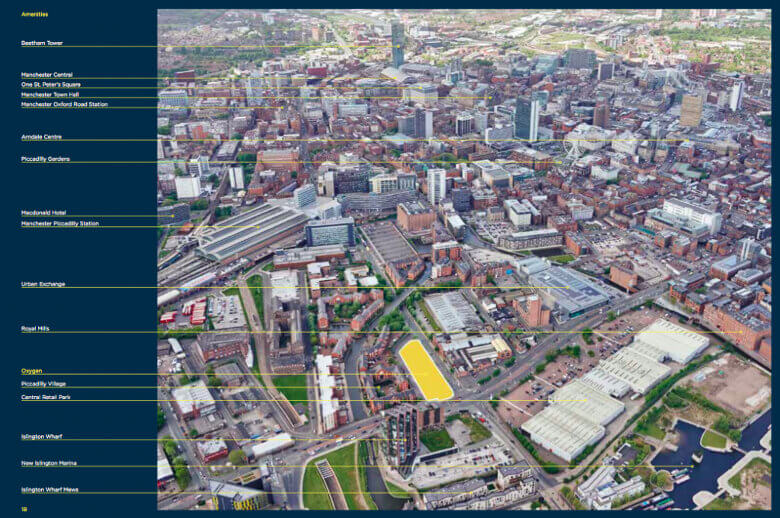 Oxygen Unit Type:

Oxygen Manchester Residential Apartment Units breakdown
1 Bedroom apartment 109 | 2 Bedroom apartment 236 | Townhouse 12
Total units 357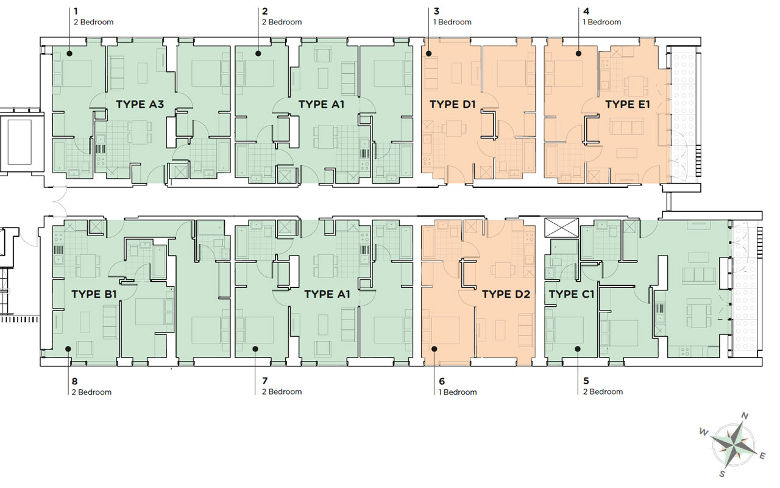 Other areas
Commercial 380m2 / 4,090ft2
Amenity 1,054m2 / 11,345ft2

Operational figures

Car parking 115 spaces 34%
Cycle parking 175 spaces 50%
Waste Storage Weekly on GD04 2014 standards
Preliminary information is subject to change. Please stay tuned for more information about upcoming launch of Oxygen Manchester apartment units for sale soon. Don't missed this ground floor opportunity to invest in emerging Manchester property market. Register your interest for updates and more.
Register Your Interest Now!
Here's Why you should Register your interest Early:
You Receive First hand:
Oxygen Manchester detailed information soon to be released
Oxygen Manchester VVIP booking & discounts invitation
Oxygen Manchester VVIP pre-launch priority unit selection
Oxygen Manchester updated info
Oxygen Manchester floor plans
Oxygen Manchester price list / pricing
Oxygen Manchester Location Map
Simply fill up the form below and you will also be invited to attend a Free Info Session on Manchester Property Market