Date: April 2nd and 3rd 2016,
Time: 12:00pm, 3:00 pm and 5:00 pm
Venue: Shangri-La Hotel
Book Your Seats for FREE Property Seminar this Weekend
FIND OUT

Will the surge in London buy-to-let continue?

Have taxes changed the investment landscapre?

Is this a time to buy, sell or hold?

Where can value still be found in London?

What are the long-term prospects for property investment?
DID YOU KNOW...
Manchester is set to be UK leading property destination according to BNY (Bank of New York)

Manchester is attracting a fast growing number of UK and international investors

Manchester is the Best UK City to Live In for 3 years running

Manchester is Europe's most affordable City

HSBC named Manchester UK #1 Buy To-Let Hotspot
LEARN HOW...
To profit from Manchester, UK's new property hotspot

To own and managed your UK property hustle free from Singapore

To make safe calculated investment and reduce your capital gains tax

To obtain home financing without affecting your local TDSR
PREVIEW MANCHESTER NEW PROPERTY FOR SALE
One Regent Apartments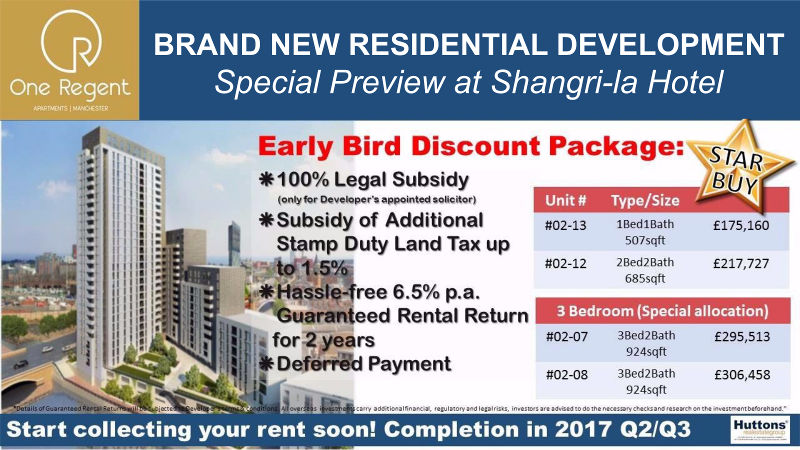 Rising high from the banks of the River Irwell, Manchester's magnificent new
One Regent Apartments
offers an inspired blend of urban tranquility and modern sophistication.
Ideally located just two minutes from Castlefield, one of Manchester's most vibrant destinations, packed with buzzing bars, restaurants and offices, and a short 5 minute stroll to the historic city centre, One Regent Apartments is also within easy reach of MediaCity UK.
Beautifully designed 1, 2 and 3 bedroom apartments, onsite parking, elegant landscaping and a 'best of all worlds' location together make a perfect property promise. The promise of something for everyone at One Regent Apartments.
At the heart of each One Regent apartment is a beautiful design. A beautifully, practically designed interior from celebrated British design studio Hjem.
So Don't miss your chance to own an affordable stylish apartment at One Regent...
Book Your FREE Seats Now

Manchester UK Property Expo Seminar
This Saturday and Sunday
Date: April 2nd and 3rd 2016,
Time: 12:00pm, 3:00 pm and 5:00 pm
Venue: Shangri-La Hotel
Simply fill out your details in the form below
Appointed Developer Sales Contact :
6100-1681
Or SMS 9767-3638: Your Name/Manchester Talk
Did you know that Manchester City is the number one property hotspot in the UK for the next 10 years according to BNY (Bank of New York) prediction? So what is driving the Manchester property market and why for 3 years running Manchester is voted the Best City in UK to live? Find out how you too can profit from UK next property growth market and where the investment opportunities are.
Huttons International is conducting regular weekend complimentary Manchester UK property seminar in Singapore for prospective investors to understand more about investing in Manchester UK residential property.

So Book Your Seats for this FREE Property Seminar Now!
Get exclusive insights into Manchester property market and what is powering the Northen Powerhouse of UK and where the real opportunities are.

Understand how the British pounds exchange rate can be an additional booster for the return of your investment, to maximise your returns and managing your property hustle free from Singapore and preview the latest newly launched Manchester property for Sale..

One Regent apartments located on the fringe of Manchester CBD which is just a mere 10 minutes walking distance.
Disclaimer:
This webpage is for information only. Whilst reasonable care has been exercised in preparing this information, it is subject to change and these particulars do not constitute, nor constitute part of, an offer or contract; interested parties should not rely on the statements or representations of fact but must satisfy themselves by inspection or otherwise as to the accuracy.
No person in the employment of the agent or the agent's principal has any authority to make any representations or warranties whatsoever in relation to these particulars and SingaporePropertyHunt.com cannot be held responsible for any liability whatsoever or for any loss howsoever arising from or in reliance upon the whole or any part of the contents of this webpage.