Corporate Housing Services
Our Corporate Housing
Team
will find you the
Best Homes
in Singapore in the
Fastest Time
and leaves you with an
Absolute Peace of Mind"

"
Do Your International Executives Need Assistance Locating a House?
Moving your executives is no small task. It's difficult to be productive when burdened with the details of relocating their families and themselves.
And looking for a property in an unfamiliar location can be stressful and time consuming at best.
We aim to make your relocation of personnel as smooth and efficient as possible for both the employer and the employee.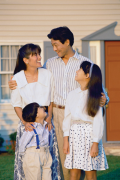 Our Corporate Housing Team specializes in long term condominim rental, apartment rental and house rental in Singapore.
The result is you reduce the distraction from your maintstream business while your executives can settle in comfortably and ready to focus on their assignments.
Call us today for a FREE discussion about your Corporate Housing Needs.
Call or submit online for Your FREE Corporate Housing Needs Assessment.
Corporate Housing Services
Corporate Housing Needs Assessment
Long term condo, apartment, house rental
Singapore island wide house hunt service
Shortlist Properties for Viewing
Follow-up on furnishing & finishing needs
Pre-handover Inspection
Amenities and Vicinity Orientation